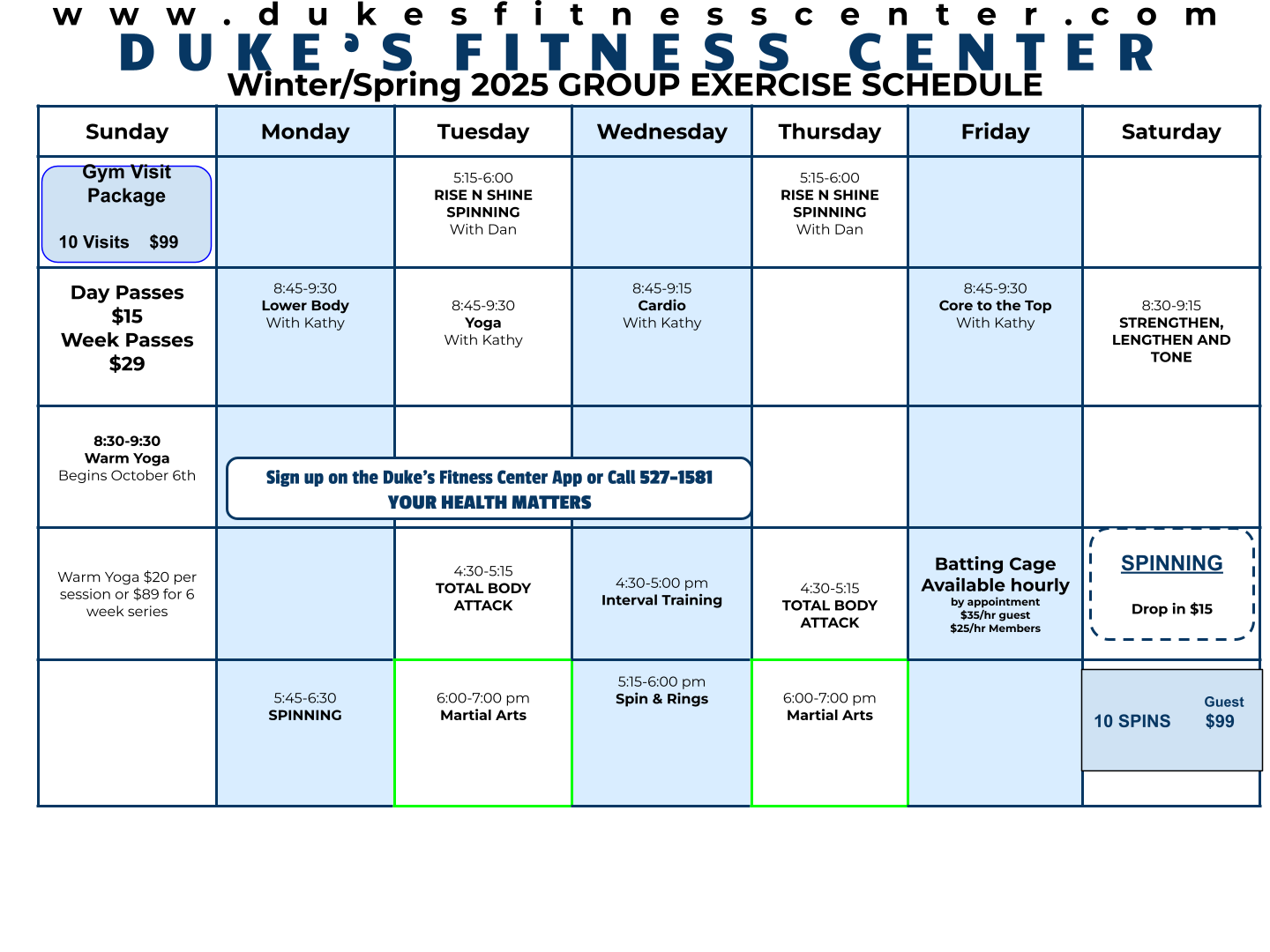 ---
Class Descriptions
---
"A combination of punching, core work, and body weight exercises that will raise both your level of cardio and strength. This class is fun and fit for every level. Group setting. Bring or buy wraps for extra protection, available for purchase at the desk. Gloves available to borrow."
"A total body toning class that will get your heart rate up and keep it up. Class finishes with an ab segment, a mindful moment, and a long stretch period."
"30 minutes of interval training with challenging exercises performed in short bursts. Each week presents a different format to keep you challenged. Although this class is intense, participants can work at their own pace and level making it do-able for everyone."
Lisa Ede
– Total Body Attack:
"Total Body is a 45 minute class. Classes may contain strength, cardio, core…class will also be many different styles. No class is ever the same. There's no chance of getting bored and this class promises to challenge all levels."
"30 mins. Every workout is different. I try to provide a structured, yet challenging workout utilizing weights and cardio. I provide modifications for all levels and an open atmosphere for people to ask questions or share what they liked/didn't like about the class setup that day. In the summer I like to utilize our outdoor space to provide a change in scenery and a different style of workout. Just like life, I'm always modifying my class to suit what is popular and most looked for at that time. At the end of the day, I just want people to have a great time and enjoy a great workout in a positive space with our amazing members!"
Join Rachel in a total body workout. "We start with a cardio blast to get your heart pumping. Once warmed up, we move across the floor doing kick-boxing and fitness moves. Then, we alternate Pilates mat moves with ballet inspired barre exercises and end with an upper body blast, using free weights in many reps and sets." Rachel uses her knowledge of anatomy, from various fitness certifications and years of dance experience, to ensure you understand why and how you need to do each movement, for ultimate success.
"Mat Pilates involves performing Pilates exercises on the floor, with a yoga mat and body weight, as well as a variety of props, such as weights, bands, and stability balls. Each class will work to balance all muscle groups' strength and flexibility, with an emphasis on challenging the core muscles with each movement. Mat Pilates is a challenging, yet safe method to sculpt your body. All levels are welcomed, as each exercise is geared to the individual."  
"Spinning is a cycling exercise program that's high on energy. Indoor cycling more than anything is a fantastic way to burn calories for beginners and seasoned cyclists alike. It's very social as well: Spinning classes are often fun group exercises, with intense music and fun instructors…[read more]"
"Get your Spin on with a fun 35-40 minute ride and then, get an awesome stretch and recovery with Olympic Rings to finish! The Rings will help support you through amazing range of motion, allowing for a deep stretch, to your comfort. This allows for better recovery and an overall workout."
"Yoga is more than an exercise. And while it effectively burns calories and tones muscles, the deep breathing and meditation that accompanies the workout do wonders for your mental health and relaxation. There isn't anything quite like yoga…[read more]"